In this episode of the International Resource Panel (IRP) Webcast Series: What does the Global Future hold, the IRP invited Panel Member Maarten Hajer, Professor of Urban Futures and Director of the Urban Futures Studio at Utrecht University, to discuss what he sees on the horizon in terms of the future of "Urbanization and Cities". He spoke about the key risks and opportunities and how the risks can be managed and opportunities achieved. The webcast included a talk and a Q&A session.
Recording of the webcast
Key points from the webcast
Fundamental to the development of the IRP's next Global Resources Outlook is exploring the future scenarios of urbanisation and cities since the mobility and building industries are responsible for a significant amount of natural resource use. Some key points mentioned by Maarten Hajer are as follows.
The Urban challenge
Drawing from the IRP's The Weight of Cities report, future city demographics pose an urbanisation challenge. Hajer explains that "considering the way in which we currently build cities with steel beams and cement concrete, the projected future urbanisation with these materials would simply blow the fuses of the planet, meaning that we would not reach the Paris goals". Another major issue is the de-densification trend in which the more affluent populations move to the suburbs to live a more spacious lifestyle, which inextricably complicates the sustainability challenge. The environmental impact of suburbanisation is seen when comparing the built-up environments of Barcelona (162 km2) and Atlanta (4,280 km2) --cities that are similar in population size, though mobility-induced carbon emissions are ten times higher in Atlanta.
The opportunity as spelled out by the IRP
Given that more than 40% of the urban fabric of 2050 still must be built, it is crucial to investigate what is holding us back from shifting towards more resource-efficient and sustainable cities. While green finance plays a part in bending the business-as-usual trend, the New Climate Economy report reveals that it is not a question of lacking funding (with as much as $87 to 92 trillion investment expected for new urban infrastructure up to 2030), but rather of it going into the wrong direction. Moreover, there is only a minor 5% financial difference between building a climate proof city and building a city that is completely wasteful. Hajer adds that an ideal way to focus investment and reduce resource requirements is by combining efforts to address different crises together, as emphasised in The Weight of Cities report.
Shifting to alternative building materials and a 'post-fossil' city
Hajer believes that, in practical terms, urban planning needs to shift towards using biobased materials such as bamboo and timber and aspire to new 'imaginaries' which move away from suburbanisation being the logical step for cities that become richer. He comments that "interestingly, using these biobased materials precisely does what we need, namely that people who are wealthy now think it's a good thing to build with biobased materials, which in turn, is tapping into that sociological imagination that we need to get beyond this thinking that there is no alternative". He explains that the new imaginary should be that of a 'post-fossil' city, and that instead of opting for 'smart cities' we must focus on creating 'world neighbourhoods' which better reflect a green and just city.
A new transparent governance of collaboration
To do so, we must study individual cases (such as the Hunziker Areal urban development project in Zurich which distributes energy on a daily basis according to how much could be given to everyone worldwide) to see what bottom-up approaches are working and how to replicate these to wider and global contexts. To accompany this effort, Hajer highlights how collaboration at the governance level is crucial, requiring shifts from corporate to entrepreneurial urban governance, from competition to cooperation between cities, and from hierarchical to horizontal and collaborative governance in which urban citizenry plays a significant role.
Speaker - Maarten Hajer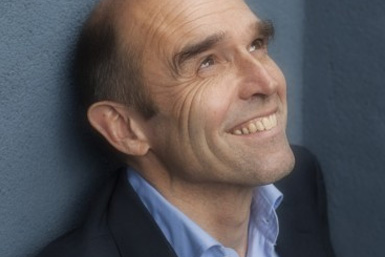 Maarten A. Hajer is distinguished professor of Urban Futures and Director of the Urban Futures Studio at Utrecht University. Maarten is also the Scientific Director of the university-wide strategic theme 'Sustainability' and the lead author of its new programme, 'Pathways to Sustainability'.
Previously Dr Hajer was professor of Public Policy at the University of Amsterdam and Director General of the PBL – Netherlands Environmental Asssessment Agency. Dr Hajer holds MA degrees in Political Science and in Urban and Regional Planning (both University of Amsterdam) and got his D.Phil. in Politics from Oxford University.
For the IRP, Dr Hajer is a member of the International Resource Panel, where has chaired the working group on Food Systems and co-chaired the working group on cities (together with Mark Swilling). He is the author of more than 10 scholarly books, including The Politics of Environmental Discourse (Oxford UP, 1995), In Search of New Public Domain – Analysis and Strategy (NAi Publishers, 2001, together with Arnold Reijndorp), Deliberative Policy Analysis (Cambridge UP, 2003, eds. with Hendrik Wagenaar), Strong Stories – How the Dutch Reinvent their Planning Practice (Nai/010, 2010, with Suzanne van 't Klooster & Jantine Grijzen) and Authoritative Governance (Oxford UP, 2009). His most recent book is Smart about Cities – Visualizing the Challenge of 21st Century Urbanism (NAi/010, 2014), a critique of the prevalent discourse of smart cities and a call to connect urbanism to the challenges of re-urbanization: the need to make green, socially inclusive cities.